Coca Cola is my most favorite soft drink.  It taste best in the tall bottle!  It's now made in Mexico, with pure cane sugar.  I buy it at Costco.  But I'm not sure I'll ever enjoy it again, now that I know this.
In September of 2014 I began to wonder about all the warnings my grandmother gave me. The concerns my own mother had about the people in government.  I always brushed it off, until it seemed there were just too many things in the news that didn't make sense, and there sure seemed to be a lot of people from Chicago running our government.  So, I started looking into the history of many people and subjects that seemed important.  I would fact check everything I could, when something caught my eye.  Then I stumbled upon a book, a book about President Roosevelt, called After Seven Years by Raymond Moley.  Raymond Moley was a close advisor to Roosevelt.  The book was far too boring for me to read from cover to cover, so I just read bits and pieces.  What I stumbled upon made me think twice about what my mother and grandmother had warned me about so many years ago.
You can download  After Seven Years by Raymond Moley for free at
https://mises.org/library/after-seven-years
Read the chapter "Summer Without Increase"  Page 355, toward the bottom of the page, made me think more seriously about what I listen to and watch on TV and the Internet.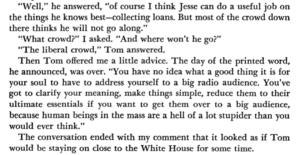 Roosevelt and his staff knew exactly how to gain favor with Unions, Catholics, Blacks, and Farmers.  They found out what each group wanted most and then promised to give it to them.  It was that simple, especially when people heard it on the radio.  When Roosevelt spoke with the same passion they felt in their own bones about their issue, he was their man!  They loved him!
Our natural human defenses don't work well with media (there is no body language to read) and the news networks and politicians know it.  They really think you and me are stupid.  They pull at your heart strings and emotions and get your unwavering commitment and loyalty.  How passionate are you for your party?
The Tom, in the clip above, is Tom Corcoran.  (Please read about Tom Corcoran Thomas Gardiner Corcoran).  I think you'll be surprised at what he's done.   I also looked up James Farley.  He was Roosevelt's Campaign Manager and later Chairman of the Democratic National Committee.  In fact, he took on many leadership roles.  (Please read about him: James Farley)  Per Wikipedia, after he finished working in DC, "Farley guided and remained at the helm of Coca-Cola International for over 30 years and was responsible for the company's global expansion as a quasi-government agency in World War II. This was used as a boost to the morale and energy levels of the fighting boys. Shipped with food and ammunition as a "war priority item," the deal spread Coke's market worldwide at government expense. Also at U.S. expense after the war, fifty-nine new Coke plants were installed to help rebuild Europe."
I stumbled upon the Pay for Play DNC emails, but then DCLeaks published the emails of Capricia Marshal.  When I opened up her emails I saw the tab Coca Cola and I remembered that when James Farley ended his career in Washington, he went on to work for Coca Cola.  I was floored!  Especially when I saw that Coca Cola is paying Capricia Marshal $7,000 per month for consulting fees. Here's what DC Leaks says about Capricia Marshal "The former Chief of Protocol of the United States, Capricia Marshall used to be one of the Hillary Clinton's insiders at the State Department. The daughter of immigrants, she worked on the Bill Clinton presidential campaign. In 2000, as the Clinton Administration wound down, Marshall worked on Hillary Clinton's New York Senate campaign, although in its aftermath her name figured in charges of campaign finance violations brought before the Federal Election Commission. Capricia Marshall is increasingly at Clinton's side these days. It is not by accident that Mrs. Marshall is on "Washington Power List".  Throughout the emails are discussions and updates on everything from advertising campaigns, legislative bills for GMO labeling, CEO pay increases, and foreign government programs with sponsorships by Coca Cola.  So I looked up Coca Cola's stock holders.  The largest stockholder is Berkshire Hathaway.   Blackrock is also listed.  Cheryl Mills, another power player of the Clintons, is on the Board of Directors for Blackrock.  Please read more about Cheryl Mills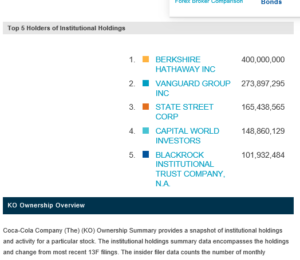 I had to wonder how many millions had been made off the inside trading that was clearly possible.  I have to wonder how many more corporations and Washington power players where becoming millionaires and billionaires through the stock market.  I had to wonder if Pepsi Cola wasn't part of the team. I believe Capricia also does consulting work for McDonalds.  Check for yourself Capricia Marshall Emails
I am not accusing Capricia Marshall or Cheryl Mills of any illegal activity.  It wouldn't surprise me if everything is on the "up and up" and completely legal.   That's our biggest problem.
---